FAQ
About ComicVid
Who is ComicVid?
---
ComicVid is a platform that allows creators to monetize their creation and showcase their works in both comic strips and comic videos to the world. We encourage aspiring artists to upload their works on our platform as well as having the opportunity to transform their works into comic videos. Available on Google Play Store and App Store!
---
Is the ComicVid app free?
---
Yes, ComicVid is an app that is free for all to use
---
Having trouble using the app or experiencing errors?
---
Connect with us now by sending us an email to comicvid-tech@vividthree.com or proceeding to our website to contact us.
---
Is ComicVid available in all countries?
---
Yes ComicVid is now available in all countries, so that everyone would be able to enjoy the ComicVid experience
---
Is ComicVid available in other languages?
---
It is only available in English for now.
---
How do you start using ComicVid?
---
All you have to do is download the app on Play Store or the App Store, Sign up for an account and there you have it, access to a database of Comic strips as well as Comic Videos
---
---
Contribute to ComicVid
How do I sign up to be a contributor?
---
Go to the contributions page on our website, www.comicvid.com and sign up as a publisher. Once you are approved as a publisher, you will receive an email with a link appended inside, click the link and from there you are able to reset your password and log in with your credentials.
---
How will my Comic series be turned into a Comic video?
---
If your series achieves a high amount of viewers, the ComicVid Team will be able to help you turn your comic series into a comic video, with accompanying sound effects as well and we will help you to post it in your account.
*Disclaimer: We will not change anything inside your comic series when being turned to a comic video
---
Do I have to provide all the required artworks when I contribute?
---
Yes, it is compulsory as we will require all these content in order to have a smooth assimilation for all creators when it goes up onto ComicVid.
---
As a creator, how am I able to manage my content?
---
It can be managed through the publisher webpage which is available on our website www.comicvid.com
---
How do I login to my account?
---
Go to our website and there will be a login button at the top right hand corner.
---
How old do I have to be to contribute?
---
You must be 13 years old or older to be a creator for ComicVid
---
What fields are needed to be filled in for the contributor form?
---
All fields are compulsory for the contributor sign up. Just to take note, if you are publishing your comic series on behalf of an organization, do indicate that and the name of the organization
---
Step-by-step process on how to contribute to ComicVid
---
1. Login to Publisher account
2. To create a new series, click on 'Add series'
3. Fill in all required fields + upload all required thumbnails. Press 'Submit' after you are done (Note: Each file should not be more than 3mb)
4. Once submitted, you will be redirected back to the series page where you will have to click your desired series to bring you to the season page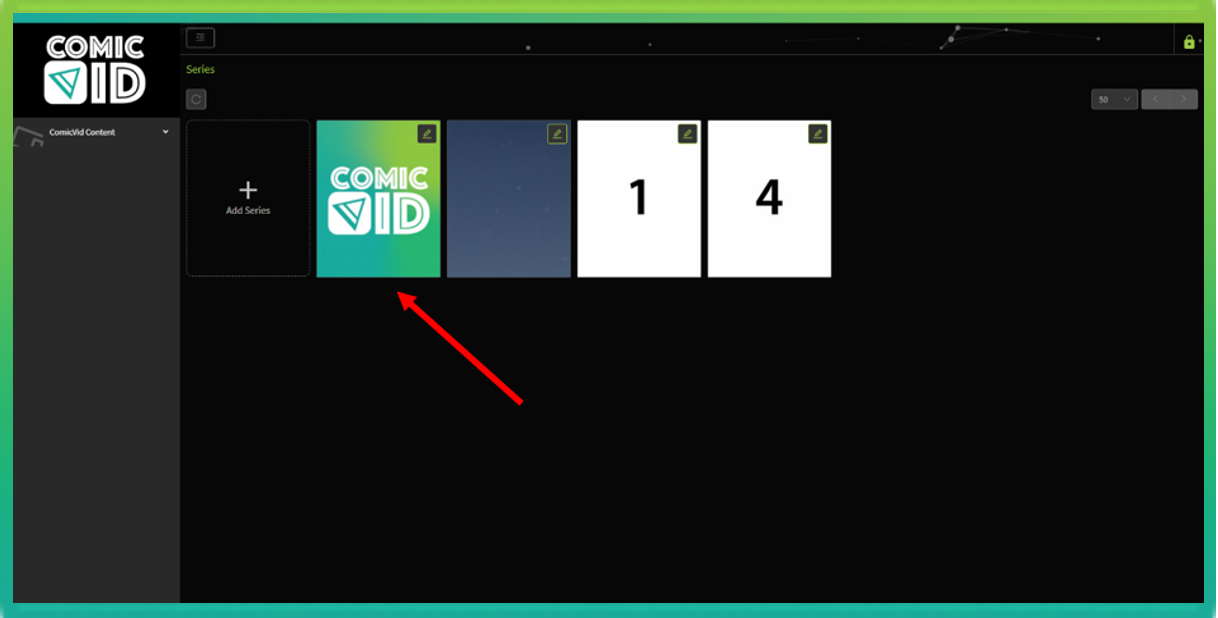 5. At the season page, you can click on 'Add season' and from there you are able to add new episodes *(Season #s are auto-generated --> It cannot be changed)
6. Once you click on 'Add Episode', submit both the thumbnail and content for that episode as required. Click 'Submit' once you are done *Note: you are able to fill in BOTH episode title and number in the episode title bar
7. Once everything is submitted, click approve to upload it to the ComicVid App. You are able to edit or delete the episode if you have not approved it yet. *(Take note that once you approve an episode, you are not able to delete or reject the series/episode anymore)
8. You can press 'send notification' to notify readers that you have uploaded something new (Take note that you are only allowed to press it once and only when you upload a new season)
9. And that is all! You have successfully uploaded your content to ComicVid. Start Sharing Now! (Refresh the ComicVid App to see your works appear on our platform!) *If you want to delete an episode/series after approving, please contact comicvid-tech@vividthree.com
---
---
Other
A series is plagiarizing someone else's work
---
Send us an email at comicvid-tech@vividthree.com with the name of the series as well as proof of ownership of content
---
Where do I send feedbacks/suggestions for ComicVid?
---
Go to the contact page on our website, www.comicvid.com
---
What if I forget my password?
---
Click on 'forget password' on the login page and you will be prompted to input your email, thereafter, we will send you an email with a link to reset your password
---
---
How to Use?
Signing-up for ComicVid account
---
Username will be the user's email address and there is a minimum age to download the app which is 13 years old. Alternatively, you can also use your Facebook account, Google account as well as your Apple account to sign up for a ComicVid account.
---
Are downloads available on ComicVid?
---
ComicVid allows the downloading of content so that our users will be able to conveniently watch their favorite comic series on the go. However, presently, only our comic videos are allowed for downloads.
---
How do I change my notification settings?
---
Login to the app and press on (···) which will bring you to settings and there you will see "Notifications" and all you have to do is press in and toggle "Allow Notifications"
---
I can't download the app
---
If you have trouble downloading the app, check on your network connection. We recommend that you be on a Wi-Fi network when installing the app.
Another problem is that you may have is insufficient storage on your device hence, try to free up some space or delete unused apps, media or the cache.
---
The series takes very long to load
---
Check your network connection or try to clear the cache for the app.
---
How to use parental control?
---
Parental controls can be enabled by pressing on (···) and tapping on "parental control" which will lead you to a toggle and will prompt you for a pin. This means that if the user tries to access content that is above NC16, the pin request will pop-up and it would need to be entered in order to allow entry into that content.
---
---
ComicVid's Monetization Program (Not Applicable at this stage)
---